Suke Quto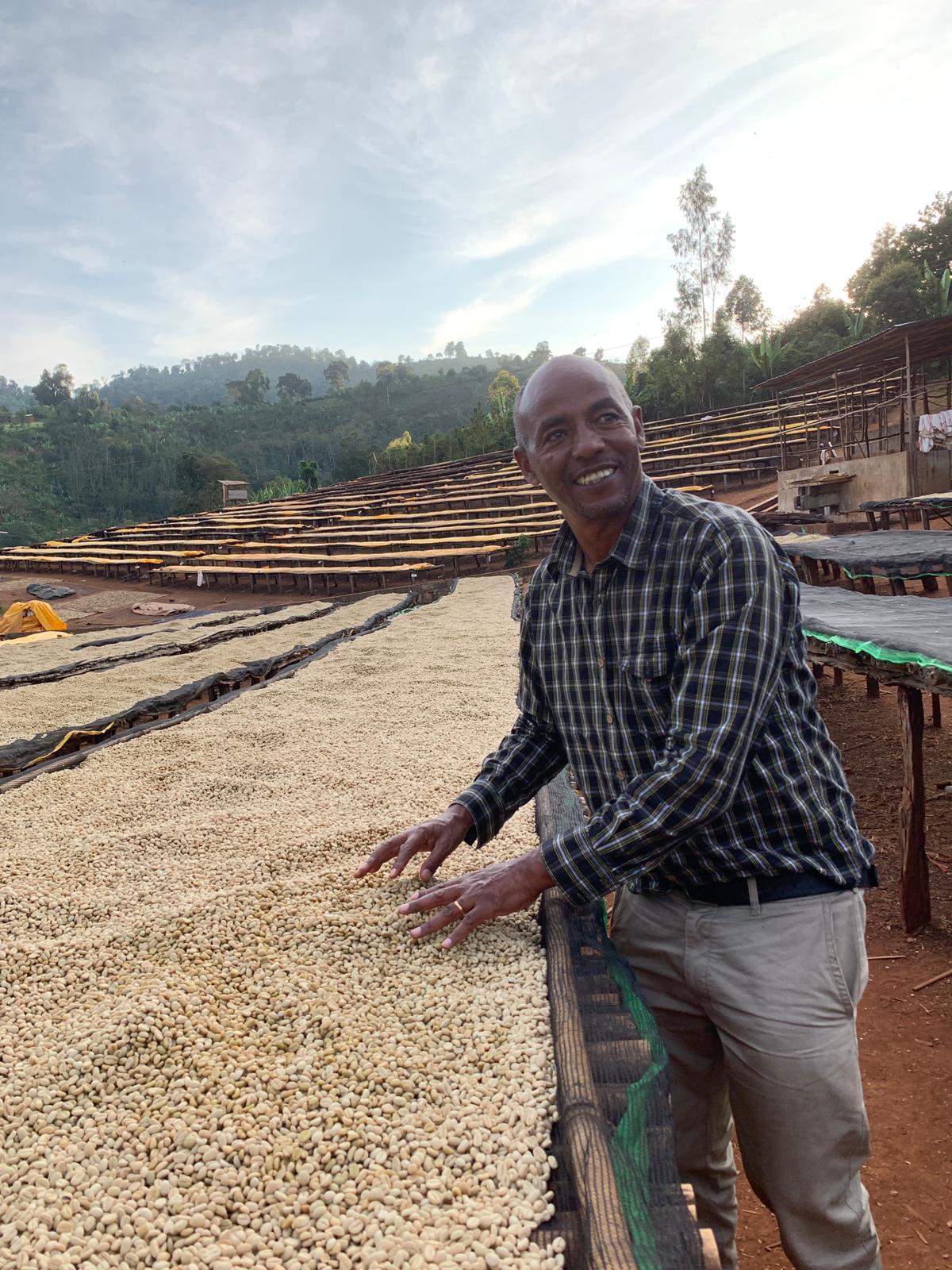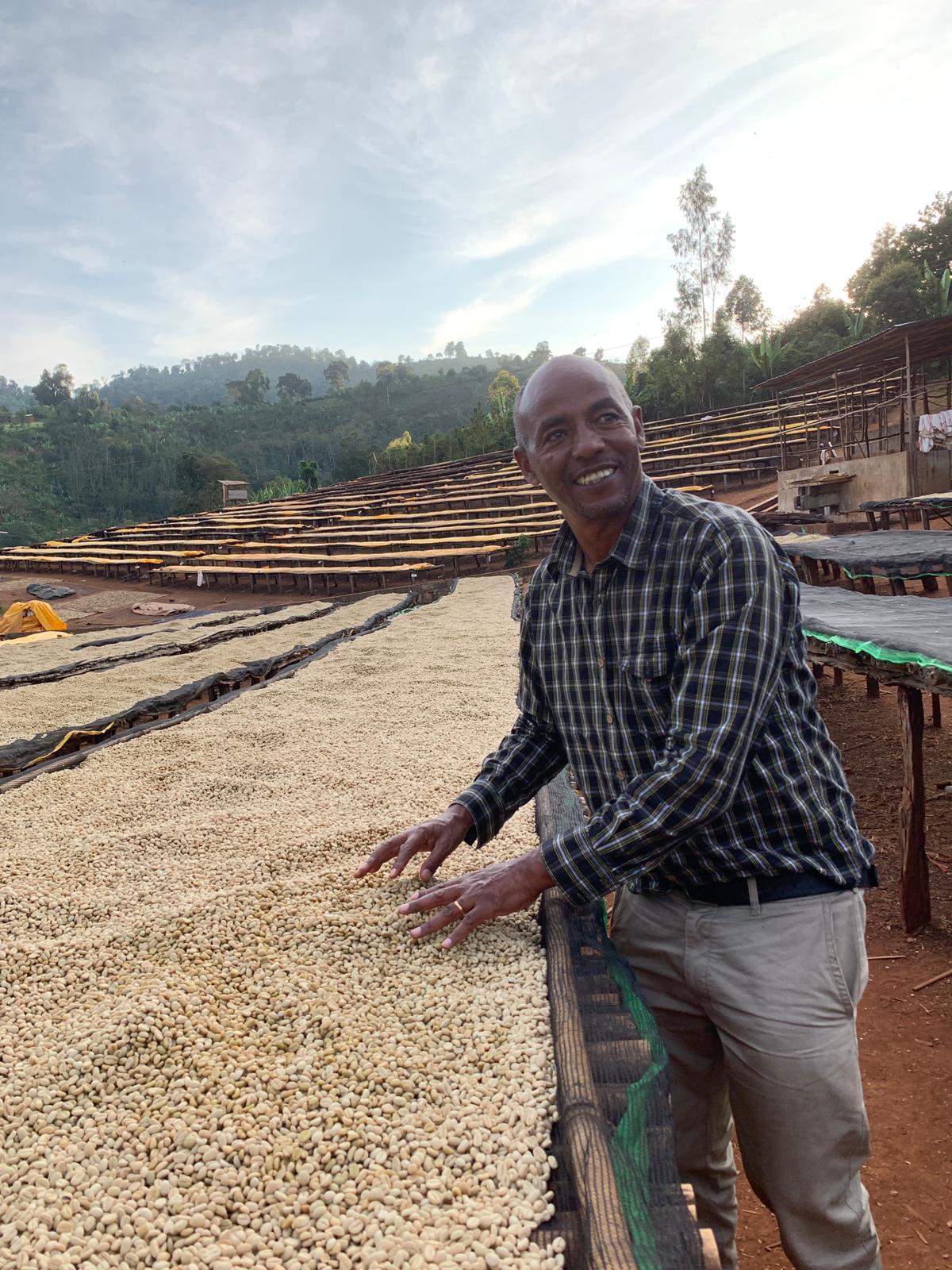 Suke Quto
One 12 oz. compostable Biotre bag.
We're thrilled for our final Ethiopia release from the 2018 harvest season, especially as we're fresh off of a visit to Ethiopia this past December. Nestled in the highlands of the Odo Shakiso woreda, the Suke Quto Farm is a totally wild, organic treasure chest of regional Guji landraces. These old varieties, Kurume and Wolisho, were originally selected from the forest and have been propagated for decades throughout Gedeo and Guji. You can expect Suke Quto to shine with brilliant floral and citrus flavors that are stereotypical of this region and these varieties. Overseeing the entire operation is Tesfaye Bekele - an agronomist, horticulture specialist, and environmentalist.
In 2000, a massive wildfire destroyed nearly 70,000 hectares of land throughout Odo Shakiso and three other nearby woredas. Out of a desire to preserve the forest and save it from transforming into a mining operation, Tesfaye took it upon himself to distribute coffee and shade tree seedlings to a dedicated group of 150 outgrowers. Together they were able to start regrowing the area of forest that surrounds the Suke Quto Farm. With this, Tesfaye was able to accomplish his dream of developing environmental friendly coffee and sustaining the local community with a reliable income. The Suke Quto Farm is totally organic. No fertilizer or pesticides. No pruning of the trees. The canopy cover from shade trees is nearly 60% - coffee plants here grow tall and slow. Because of his intense focus on ecological conservation, clear desire to produce high quality coffee, and deep philosophical wisdom, it's truly inspiring to have a relationship with Tesfaye. In his words: "We are not only buying the coffee. We are protecting the forest and buying the nature".
The Suke Quto station has been implementing quality processing protocols since day one: careful cherry selection, milling with a calibrated McKinnon 4 disc pulper, 48-hour fermentation in concrete tanks, washing done in extended channels that provide for density separation, a final soak to increase fruit-like acidity, and properly managed drying on raised beds. Suke Quto continues to thrive and expand its reach; they are now collecting coffee from hundreds of outgrowers at two different processing stations, while continuing to distribute seedlings and compost throughout the area.
Suke Quto has held a special place in our heart for years now, and getting to spend personal time with Tesfaye absolutely solidified why we're dedicated to supporting this operation. As you might remember, this coffee has graced our menu many times before, as our importing partners, Trabocca, have been purchasing from Suke Quto since 2009. As Tesfaye explains, "Trabocca is our main buyer. We sell our coffee to them every year and they are distributing it throughout the world. Trabocca is very serious about quality control and brought us to the level at which we are now, where we are very proud of our product." Trabocca covers the cost of organic certification, and if quality the standards are met, gives additional premiums under their "Operation Cherry Red" (OCR) program. In fact, our selection this year is from the OCR lot. This means very strict picking and sorting protocols, as only 100% red cherries were accepted to be processed. In turn, this translated to a higher cupping score and a 0.50$ usd/lb premium paid to Tesfaye. We were able to directly witness the benefits of these premiums as we observed new investments and expansions in the Suke Quto processing stations - there is now an entire site dedicated to natural processing and shade nets have been implemented to experiment with slower drying times.
Suke Quto exhibits an extreme attention to detail, and the results are stunning year after year. A delicate mouthfeel allows clean citrus and soft floral flavors to shine - think jasmine, earl grey tea, and orange blossoms. Meanwhile, a lingering vanilla and milk chocolate sweetness balances out the flavors, transforming them into a silky citrus marmalade. We're tasting: red fruits, hibiscus, jasmine, lemon, grapefruit, orange, chocolate, vanilla, black tea.
Additional Info/Links
Suke Quto Community School Project
Operation Cherry Red - Trabocca
Roasters Guide to Operation Cherry Red
Producer: Tesfaye Bekele
Region: Odo Shakiso, Guji
Country: Ethiopia
Coordinates: 5°45'58.9"N 38°54'42.0"E
Variety: Kurume & Wolisho
Process: Washed
Altitude: 1800 - 2200 masl
Harvest Season: Dec 2017 - Feb 2018